Arco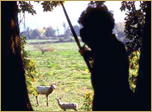 The 09 Leon "Apiana Extirpe" company which is a member of the 'FIARC ('Federazione Italiana Arcieri Tiro di Campagna') ' has its registered office in Scarlino. The company owns a magnificent archery route shrouded amongst Scarlino's Mediterranean undergrowth. Plastic shapes scattered along the route reproduce local wild game to give the impression of a real hunt.
Information:
info@09leon.it
Cruises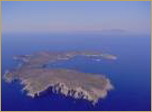 The islands of Elba, Capraia and Pianosa are just some of the islands forming the Tuscan Archipelago, rich in fauna, flora and legends: just think of the Count of Montecristo and the fabulous treasure he found on this wild, unpolluted island.
BLUNAVY
Via Emilia 136
58100 Grosseto
Mobile. +39 340 2511908 - +39 393 6244890
www.blunavy.com
Golf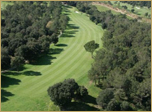 The Punta Ala Golf Club is 27 km away - and the Pelagone Golf Residence is 11 km away - from Podere Cafaggi
Centro Ippico Le Sugherine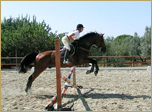 Loc. Le Sugherine 13
58023 - Bagno di Gavorrano (GR)
Tel 0566/844.906 - Ristorante: 338/23.91.833 - Centro Ippico: 335/63.76.528 - E-mail:
lesugherine@hotmail.it
42°56'8.87"N 10°52'28.36"E
In southern Tuscany in Maremma, which has been crossed by men on horseback since time immemorial once upon a time out of dire need and nowadays to feel a common sense of freedom midway between the sea and hinterland, you can find "Le Sugherine" Riding Centre, with an adjoining restaurant, Sergio's Trading Post, specialized in grilled Argentine meat and typical Maremma cuisine.
Scuba Diving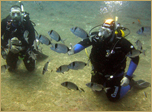 The Tyrrhenian Sea abounds in priceless flora and fauna treasures. By virtue of its position and conformation, the Gulf of Follonica boasts a large number of marine species, which can be seen in their own habitat by attending one of the numerous scuba-diving schools.
Circolo Sub L.N.I.
Via Zara 6
58022 Follonica (GR)
Tel. 0566 42201
www.lnisubfollonica.it
Kite Surf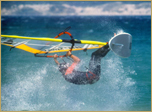 The gulf of Follonica is ideal for lovers of wind sports like wind-surf and kite-surf, which are very popular and widely practiced in the area. A safe reference for lovers of these sports or for enthusiasts is:
Via Amoretti 2
58022 Follonica (GR)
Tel 0566 264050 Cell. 320 4476236 Cell.333 3481341
www.surfrelax.it
Vela